Retaining Walls
The most basic and yet the most essential part of your backyard is the humble retaining wall. It is something that gives shape to your lawn or backyard, holding the soil behind it firmly. Without retaining walls, the soils would start to slide or even slump. Building a retaining wall ensures that your backyard is beautiful and intact; the soil is held back and doesn't erode. If you need to build solid, long-lasting retaining walls, give us a call at Schutz's Landscape & Design.


Superbly Engineered Retaining Walls
As simple as a retaining wall looks, the process of building it is complex and requires experienced and skilled personnel handling the job. Our teams have worked on several projects over the two decades that we've been around. We've built many walls in our region of Mays Landing, New Jersey and the surrounding areas of Pleasantville, Somers Point, Hammonton, Ocean City, Ventnor City and Vineland.

We've had a few recent projects in Linwood, Atlantic City, Brigantine and Egg Harbor Township, all of them finished to the complete satisfaction of our clients. It is our mission to develop long term relationships with our clients by providing quality services. If you have an area that you would like to discuss a retaining wall for, give us a call.


Types of Retaining Walls
There are different types of retaining walls available depending on aesthetic or structural needs. We will help you pick the best solution for your project. Retaining wall costs can be high but if installed properly the wall will last for decades without need of maintenance.

The different types of walls available to our clients are: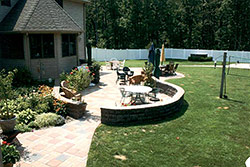 Gravity Retaining Wall: This wall is very heavy and its weight helps it hold back the soil. The shape of these walls adds to their stability. They can be constructed from stone, brick or concrete and generally considered very effective and long lasting.


Concrete Cantilever: This retaining wall design and structure is very steady and must be well-constructed and placed. It can hold back a large amount of soil. This wall is very well connected to the earth below, via a slab foundation, making it very stable.


Counter-Fort: This retaining wall is similar to the cantilever wall and uses countering pressure to keep the wall in place and this allows for tall walls of about 8 to 12 meters. These and a few other types of walls are available with us and depending on your preference and your budget. We also offer walls constructed in different materials.


Stone or Brick: Both stone and brick walls are very popular, mostly because they strike the ideal balance between endurance and the beauty.


Concrete: Concrete is less appealing because it looks less attractive. However, the material is strong and durable and all it needs is a bit of cladding to add to its beauty.


If you need more information, feel free to contact Schutz's Landscape & Design at 609-965-4100 or fill out this Contact Us form and we'll definitely get back to you.


We Provide Services to the Following Cities and Towns in NJ: