Lawn Maintenance & Care
Everyone enjoys a beautiful green lawn, whether they use it to simply hang out with the family, organize parties or just to play. A lush, green lawn adds a great deal of elegance and style to your home. However keeping your lawn green can take up valuable time, so why do it yourself? We at Schutz's Landscape & Design offer easy and economical solutions for lawn maintenance and lawn care.


Beautiful lawn Spaces, no fuss
With over two decades of experience, we've build a steady client base in Mays landing, New Jersey. We also offer our services to the neighboring towns of Pleasantville, Somers Point, Linwood, Ocean City, Northfield and Egg Harbor Township.

We pride ourselves in building enduring relationships with our clients. To us, continued patronage from clients is the greatest reward for the best lawn care. Over the years, we've come to understand exactly how to make a lawn thrive, ensuring that our clients have nothing but a stretch of lush green landscape whenever they return to their home.


Superb Lawn Care for Every Budget
Different people have different lawn care needs. We offer total lawn care solutions to fit every budget and the quality of our service remains unchanged even if client opts for our basic lawn maintenance packages. You can opt for different levels of service from us and not worry about anything else.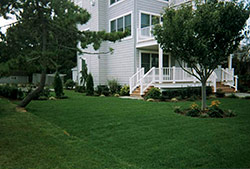 You can set up a lawn maintenance contract with us on a weekly or bi-weekly basis for the constant maintenance of your lawn.


Commercial and Residential Lawn Maintenance
We specialize in residential and small to moderate size commercial properties and can handle every kind of lawn care need. You can expect the same level of dedication that we offer all our clients, without exception.


Residential Properties: We have plans that are specifically tailored towards home owners, knowing that the lawn maintenance and lawn care is different for smaller residential properties.


Commercial Lawn Maintenance: Lawns on commercial properties require more specific attention because commercial properties must always be well-maintained. Our maintenance contracts for our commercial clients keep their properties looking their best. .


The Complete Lawn Care Package
Once you come to us, you need look no further for your lawn care needs. The services we offer are:


Mowing of lawn, pruning the trees and shrubs
Weeding and mulching the beds
Spring and Fall clean-ups
Fertilizer and weed control
De-thatching, aerating and power seeding
Insect Control

These are just few of the services provided by us at Schutz's Landscape & Design. If you want to know more, be sure to give us a call at 609-965-4100 or fill out this Contact Us form. We look forward to hearing from you!


We Provide Services to the Following Cities and Towns in NJ: